Since the happy island is located in the middle of the ocean, the salty air blowing in from the ocean tends to cause chipping and deterioration to your property paintwork, damage mechanisms like window latches, and cause rusting metalwork if you don't clean up regularly. At DG Maintenance, we are committed to providing you with the best power washing services in Aruba to keep your property clean and in good condition.
As grime and dirt accumulate on your property over time, you might not notice as it appears dirtier and dirtier. After our professional field team power washes your driveway, deck, siding, entrance areas, and other exterior areas around your property, you will be amazed at how clean and beautiful your property looks. Our system can deliver a low pressure or high-pressure stream of water at various temperatures and apply chemical-based cleaning solutions to any surface to get your home looking its best!
Apart from making everything look cleaner and beautiful, our Power Wash Services will also help to reduce wear and tear by removing mold, algae, insect, weeds, chalk, and protect your building from salty air and acidic buildup that can deteriorate the surfaces over time.
Why You Shouldn't Do It On Your Own
You might be tempted to power-wash your property all by yourself, but it can be a costly, time consuming, and frustrating endeavor. Apart from the high cost of renting a pressure washer per day, you'll also have to travel down to the rental location, stand in a queue, get the equipment ready, clean and refuel it and return it by the deadline.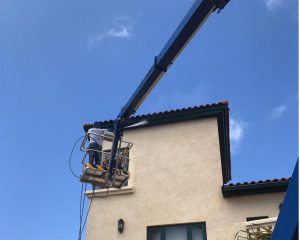 Instead, contact DG Maintenance and Construction, and we will arrive with the necessary equipment and supplies and expertly clean the property and its areas for you.
Power wash: 3 times a year for effective preservation maintenance
Exterior surfaces: walls, windows, gates
Floors and decks
Brick/stones patio's & walkways
Pool decks & patio/pool furniture